Why you should also write letters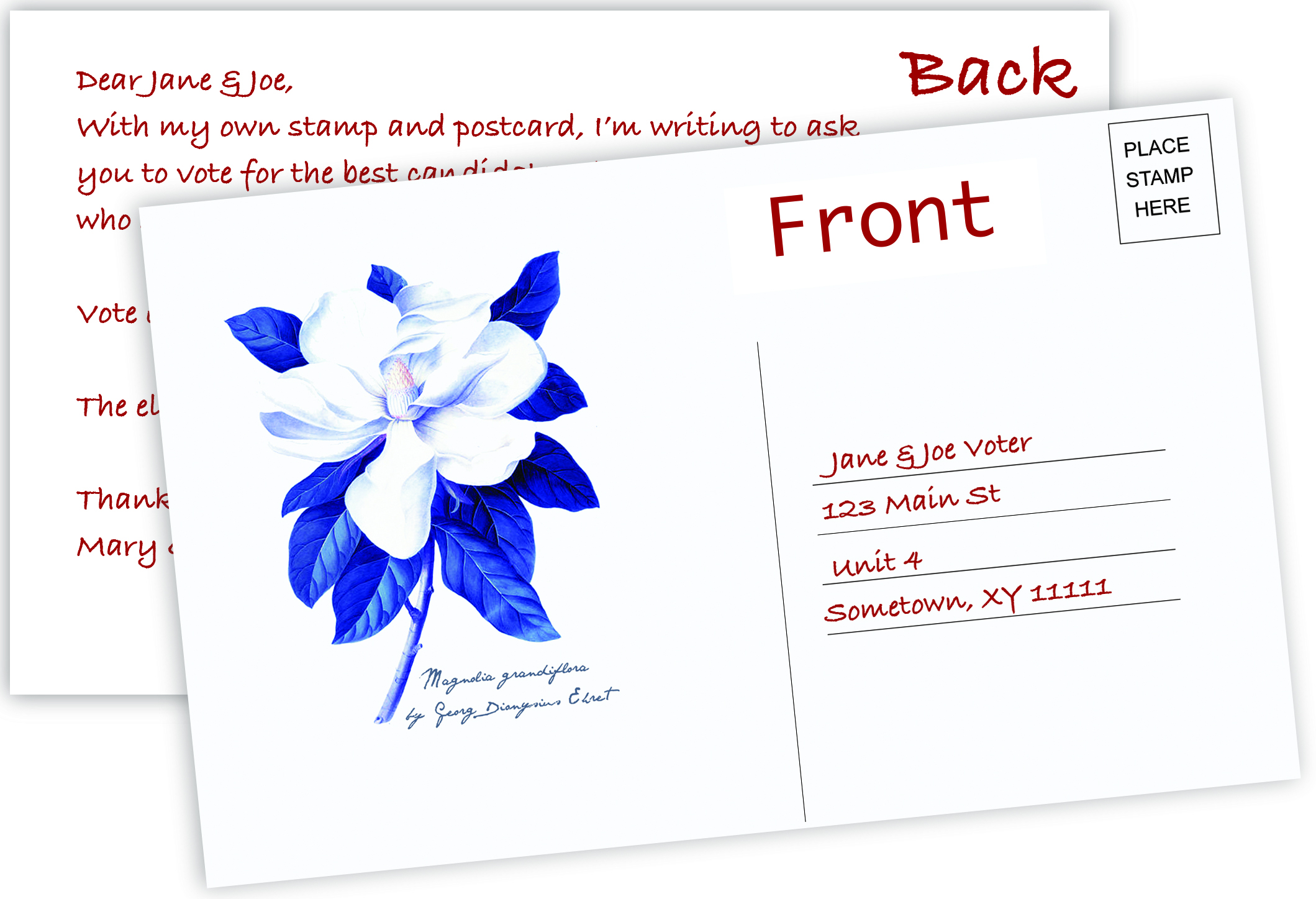 If the entire front of your postcard is covered with a picture, do this: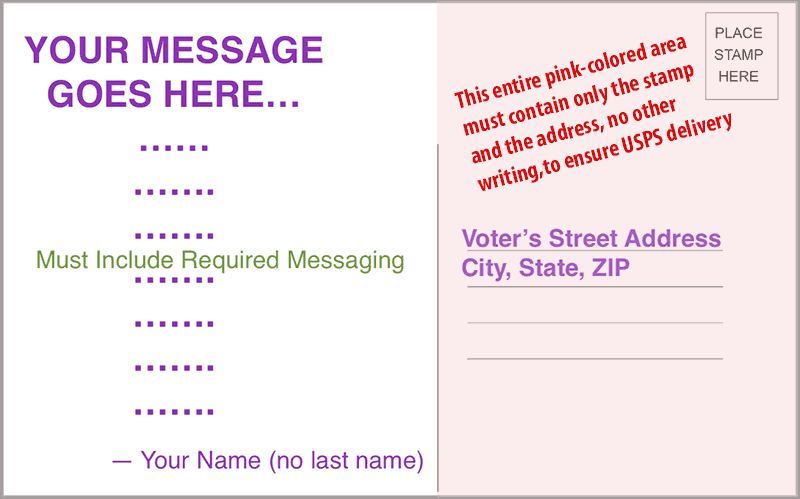 MESSAGING
Each address list has a
required message
on it. We ask you to stick to it because our postcards help campaigns and organizations test their messaging.
Highlight
,
use a different color
, or
underline
important details. If you have room for more, feel free to use these optional points as well:
It's URGENT voters like us show up to protect our future!
Democracy only works when more of us vote.
Your Vote = Your Voice
Protect democracy by voting.
Government works best when public policy is crafted for the benefit of all.
I am a real person. This is my actual handwriting. I hope you vote.
With my own stamp & postcard, I'm writing to you because it's that important.
These instructions are in general; if any instructions in the package contradict these, follow the specific instructions included with your postcards.
1
Address the postcard and cross out the address from your list. If there are no names provided, start with "Dear Voter", "Valued Voter", "Partner in Democracy", or "Friend" (and just write street address in the 'TO' field).
2
Must use the required messaging on the postcard (marked 'Required Points' in the box on the list of addresses). You can also add why it's important to vote in general. (See "Messaging" box on the right.) Consider adding: Vote early, and if voting by mail, don't forget to sign your envelope!
3
Avoid cursive and try to be as legible as you can, especially with names & dates. (Some legit examples; if in doubt, do one and send me a picture for feedback).
4
Make the postcard "pop" with highlighters for important details, underlines or stars, stickers (only flat, not 3D puffy ones), drawings, smiley faces, etc.
5
If this is your first time writing postcards with us, email me the photo of your card for quality control.
6
Currently, postcards don't have a specific deadline, so mail them when you complete them. Shred the addresses when done. (Feel free to return the postcards and/or addresses to the host to deal with when you come to pick up more packages). Sometimes, there's a faster deadline or instructions "must return to host" inside the envelope, then please follow those specific instructions.
P.S.

Stickers??


If you were given stickers with phone/url, it's because for that part of the message it's important to be very legible. Please place it in the indicated spot in the message.

Stamps??
If there were no stamps in the package, it means the postcards must be returned to the host for special processing. You do not need to buy stamps (especially since if you already gave me money for the package, cost of stamps was already included).

Thank you for being a volunteer!!!